Ryk Tierney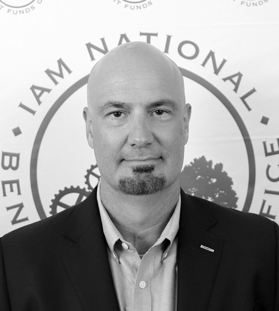 Mr. Tierney was appointed by the Board of Trustees as Executive Director of the IAM National Pension Fund (IAMNPF) effective May 4, 2015. The IAMNPF is the 5th largest multiemployer defined benefit pension fund in the country with over 100,000 actively working men and women, over 116,000 retirees and beneficiaries, and approximately $15 billion in assets.  He is also Fund Director of the IAM National 401(k) Fund and the National IAM Benefit Trust Fund.
Before coming to IAMNPF, Mr. Tierney served as Executive Director of the New York City District Council of Carpenters (NYCDCC) Benefit Funds from April 2013 through April 2015. From 2001 to 2013, he was the Vice-President/Director of Accounts for a third-party administrator based in Baltimore, Maryland. Additionally, he has considerable work experience in labor management relations.
Mr. Tierney holds the Certified Employee Benefit Specialist (CEBS) designation through the Wharton School of the University of Pennsylvania and the International Foundation of Employee Benefits.
As an active member with the International Foundation, he has spoken at numerous national conferences on the subjects of compliance, the Affordable Care Act, and Strategic Planning and has been published in the International Foundation's Benefits Magazine.